Confirmation at St. John's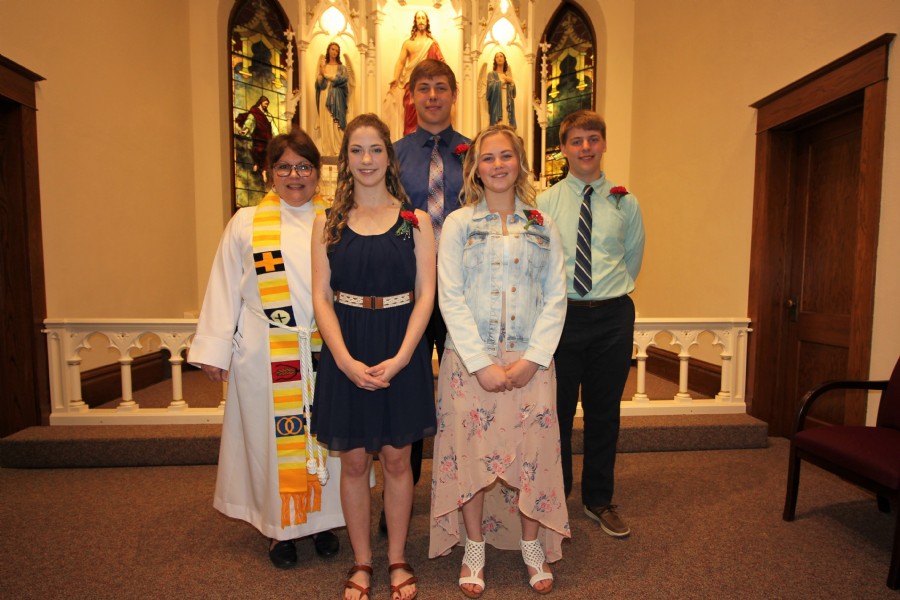 'I know the plans I have for you,' says the Lord,
'…plans to give you a future and a hope…'
Jeremiah 29:11
Alexis Grunzke
Philippians 4: 12-13
¨I know what it is to be in need, and I know what it is to have plenty. I have learned the secret of being content in any and every situation...I can do everything through him who gives me strength. ¨
I believe that the bible contains information about how God viewed the world and how the creation of nature was formed. The bible has various information, scripture, stories, how people that were suffering were healed, a guide for how we should live life to the fullest and guidelines for what is right and wrong in everyday living. I believe that the bible was not written in a day but was written over long periods of time. It talks about historical events that took place many centuries ago, such as ¨Noah's Ark¨, the life of Jesus Christ, the disciples, prophets and much more. I believe the bible is still around today because God's word still speaks to us. The bible serves as a guide for all Christians regardless of their Church affiliation. Another reason is because we learn about it in the church, in the classrooms, and on our own. Conformation gives us the experience to put ourselves into the story of faith, understand what happened centuries ago and learn about how the bible was formed.
I believe in the Trinity. I believe God exists as God the Father, God the Son, and God the Holy Spirit. I know this from a thing Pastor Jan taught me called Sola Scriptura by Martin Luther. I believe the three persons of the Godhead did work together in the creation. One way I have experienced God in creation is when I'm surrounded by nature. I always seem to feel his presence when I am around animals. I have come to know God through the church because of my times spent in the classrooms, through confirmation, and listening to Pastor Jan on Sunday mornings. I have enjoyed getting to know all areas of what God accomplished and the stories about him in the bible.
I believe Jesus Christ is the eternal Son of God. Jesus is God's only Son our Lord. I believe Jesus did die for our sins. I believe that he was buried and rose again on the third day. I believe it is possible that Jesus was considered the Messiah, especially to the Jews in Israel. There is a lot of evidence told by the prophecies that make him out to be the Messiah even though some would disagree. I believe that one day everyone could potentially kneel to him up in heaven and declare him the Lord of all Lords. I have personally experienced Jesus in many ways, he has made my faith in Christianity stronger. One way I have experienced him is through the church each Sunday, I get the opportunity to learn more and more about him like the struggles and accomplishments he went through centuries ago. Another way I have experienced him in my life is when I'm having tough days, I feel his presence and know that he is the there for me.
I believe that the Holy Spirit contains the power of who God really is and gives us the power to get through tough situations. I believe that yes, all people have sinned at one point or another in their life. Nobody's perfect and may create a sin without even knowing it. I believe that anyone who believes in Jesus Christ shall not perish but have everlasting life. We are called to pray to God for forgiveness and take responsibility for the sins that we committed. I believe that Heaven is a place you/your spirit will go once your life has ended and you can continue your everlasting life with God. God's gift of everlasting life is not dependent on our being without sin. In Christ there is no condemnation Romans 8 Heaven is now.
Tiffany Sorensen
My name is Tiffany Ann Sorenson and this is my statement of faith.
Proverbs 31:25. She is clothed with strength and dignity and she laughs without fear of the future.
I believe my journey of faith is just beginning. Why? Because I've heard it many times and I actually believe that it's true. I have been to religious camps, on mission trips, I've attended worship services on Sundays, gone to Sunday school, completed confirmation classes and yet even with all that experience I don't yet know all I need to know. Learning more about my faith is my passion.
I believe that every day things happen that we eventually just forget, but every day there are also those little miracles that happen and they stay with us until we die. At these times I picture Jesus smiling down on us and making sure we make every second count. Time is a gift and we need to use it wisely.
I believe that the mission trip to the Cities really opened up everyone's eyes to human suffering and need and that God is helping people even when it does not always seem like it. We felt God's presence with us all day, strengthening our faith. When we would get back to the church where we were staying for our work assignments, we would all explode with stories and laugh together.
I have learned a lot through Camp Omega. We would gather in the middle of the day to sit down and talk about a specific bible verse. We would act it out so the group would be able to remember it better. We felt God's presence there and I believe that God, like a father or mother, was proud of us. The camp gave us tools for understanding the Christian journey and our core beliefs. Probably one of my favorite lessons was the explanation of the Trinity using three sticks to symbolize the Father, Son and Holy Spirit.
I believe God brings us into the world, but His love doesn't just stop there. God stays by our side and reveals the goodness of the world. Satan does get to us sometimes, but God remains with us and helps us right back up. Satan would like to trick us into believing things that are not true, but the power of Jesus is much stronger because He died for us on the cross. The Apostles' Creed reminds us Jesus suffered. And because of this, no matter what situation we find ourselves in we know that our Savior understands our suffering too, and through his grace we can overcome the bad things that happen to us.
How do I know this? I was in 2nd grade when my mom told me I wouldn't get to see my dad anymore because he passed away. At the time, I didn't really think much about it because I was not able to comprehend the meaning of his passing.
Throughout the years since that time, all I can remember is the good times and the happy memories we share as a family. Sometimes my sisters and I remember really funny stories and it feels like my childhood just happened yesterday. Sp even though I lost my father I have come to understand that God is with me even in the worst pain we can imagine, helping us, making us stronger, helping our faith grow.
I believe in God.
I believe in Jesus, His Son.
I believe in the Holy Spirit.
I believe this church can do great things for His glory. I believe and trust that my family will always have love for me. No matter how many times I fall Jesus, God, this church, Jake, Ruth, Mary, Pastor Jan, Linda, my family
My aunt and uncle, my grandma---oh I could go on for days.
All of these people will be standing right by me, holding me up and challenging me to keep growing.
So now my journey does not end here. I look forward to the life that God has planned for me and knowing that, I can smile at the future. Proverbs 31:25.
Thayne Decker
My name is Thayne Decker and this is my statement of faith.
"Be strong and courageous. Do not be afraid or terrified because of them, For the Lord your God goes with you; He will never leave you nor forsake you."
Deuteronomy 31:6.
I chose this because to me it means I can live my life with courage and fearlessness. I was inspired to choose this verse by a fellow Christian and It reminds me that God is always looking out for me. I am starting to realize God is always with me in everything I do. When I was younger I did not fully realize how powerful God's presence is for those who trust in Him. And I now believe God will guide me everywhere I go and help me through all my challenges and hardships in life.
Confirmation has shown me that God has the ability to help anyone who believes. One story in the scriptures that reminds me of this is Matthew 9:27-31. When two blind men had recently heard that Jesus had raised a girl from the dead. So they asked Him if He could heal them. Jesus simply asked them if they believed. They said, "Yes" and Jesus was able to heal them. These blind men are like people seeking after the Truth in our modern world. They hear the report of a miracle and they go directly to Jesus to search out the Truth of his power. And because they did this, they received the gift of knowledge, healing for their blindness and the blessing of Eternal Life.
My baptism was the beginning of my faith journey. It began there before I was able to walk or speak for myself. It continued and grew while I went to school, came to church each Sunday, through prayer each night, and through relationships with teachers, family members and friends.
I believe that God will help and guide me step by step to a good future of serving Him by helping others to grow in truth and faith. While attending church services, my faith in God has been strengthened because the Word of God speaks to us in many new ways. Communion always reminds me that God will always forgive me, no matter what I do, all I need to do is ask for forgiveness. We do not receive communion alone, but along with our entire church. At the communion table, we all receive together the Body and blood of Jesus our Savior to strengthen us as the Body of Christ. In this way God wants us to then go out and do good in the world by teaching others about the greatness of God.
According to Isaiah 41:10, God is always with me, he will strengthen me and help me. He has called us all by name"
As I finish confirmation classes, I do not feel it is an "end," but a continuation of my faith. I hope that the Holy Spirit will continue to comfort and guide me and all of us who are confirmed today. As I continue to grow and pursue my faith I believe that God will be with me all the days of my life.
Ethan Fischer
My Name is Ethan Fischer and this my statement of faith. My verse is 2 Peter 3:18. It says. "But grow in the grace and knowledge of our Lord and Savior Jesus Christ." This is meaningful to me because it says "grow" in the grace and knowledge.
I was born into a farming family. It is essential that things on the farm are in a state of growth. The livestock, the grain the beans, the garden are all evidence of God's handiwork in creation. Growth in the natural world and growth in the spiritual world are very much alike. In baptism, our parents make vows to help their children grow in faith. As the farmer is committed to cultivating and planting, so is the Church responsible for the growth of children and youth. This is the life-cycle of Christian faith.
Through this careful cultivation I have continued to grow throughout my life. When I was younger, I did not have a full understanding of who I was praying to. Because of the Trinity, I now understand that I was praying all along to God, as Father, Son, and Holy Spirit. God is not only watching over us, but is willing to walk with us on our earthly journey and redeem us from sin and death, and God's Holy Spirit gives us the gifts to continue believing and spread the word of His love with others.
As I have gone through confirmation classes, I have realized the importance of the five points taught by Martin Luther,
Sola scriptura—means that the scriptures alone are our guide
Sola fide—only by faith can we come to know of our salvation
Sola gratia--means only by God's grace are we saved
Solus Christus means that only Christ is our Savior
And Soli deo Gloria means that all we do and all we are is for the glory of God.
This also brings me to the importance of Jesus Christ dying for us so that we can have eternal life and that he forgives all sins throughout my life also the grace of God blessing us despite the fact that we don't deserve it.
I understand that I am here today only by the grace of God. I have been blessed to be raised in the traditions of the faith because of my parents and because of people like_________who have committed their time and energy to the growth of my faith. I am grateful for the church.
Which brings me back to 2 Peter 3:18, "But grow in the grace and knowledge of our Lord and Savior Jesus Christ."
This is important that I know he will always be with me and that I will continue to serve him as His called disciple. With the affirmation of baptism today comes a call to commit my life to Him.