WELCA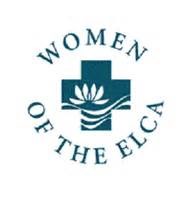 Our logo—with the cross, water and a white lily—identifies women of the Evangelical Lutheran Church in America as children of God; baptized, forgiven, adopted into God's family, full of grace and hope in eternal life. It is a reminder of the growth, beauty, and vitality that rises out of that life-giving baptismal water. It is also a reminder of the mission of the church to "Go, therefore, make disciples of all nations; baptize them in the name of the Father and of the Son and of the Holy Spirit" (Matthew 28:19).
Purpose Statement
of the Women of the Evangelical Lutheran Church of America

As a community of women created in the image of God, called to discipleship in Jesus Christ, and empowered by the Holy Spirit, we commit ourselves to grow in faith, affirm our gifts, support one another in our callings, engage in ministry and action, promote healing and wholeness in the church, the society, and the world.
Mission Statement
Of the WELCA
To mobilize women to act boldly
on their faith in Jesus Christ.
About the Women's ThankOffering
ThankOffering celebrations have been a tradition for over 175 years. It was initiated to support 2 young women who wanted to be foreign missionaries ("Denied!" those men said…). Thus, a national women's structure was created by our foremothers, and through generations we have continued to work for the goals of witnessing and serving others. Some women keep a coin bank & add money to it on a regular basis in gratitude for daily blessings. Others will write a check on the day of the offering. All methods are welcomed. You can make a bank from a small container and add a label which we will make available, or create your own. The offering money is sent to the churchwide national organization & used to support programs intended to benefit women and children in the U.S. and in other countries. Our next ThankOffering Sunday will be November 18, 2018.
Our Church Women
We belong to The Women of the Evangelical Lutheran Church, Southeastern Minnesota Synod Minnesota River Conference
Committee Members
Jan Brindley 507-278-3142
Rita Caron 507-524-4234
Leah Frank 507-524-4090
Lisa Manthei 507-524-3739
Sybil Solting 507-524-3242

Anyone can be a committee member! All are welcome to join us in sharing ideas & making plans for mission projects and meetings.
Each woman of the congregation is considered a member of "our church women". We are organized into 6 working circles and 1 funeral circle. The working circles serve for church dinners & special occasions. The funeral circle serves the meal as requested by the family.
If you are interested in becoming a WELCA member please contact Rita Caron at 507-524-4234.